Return to Learn is a popular term in Concussion Management. But, what exactly does Return to Learn mean? Return to learn is the process of managing student's concussion symptoms during the school day, so a student can continue to attend school in the classroom learning environment during recovery, fluidly and flexibly over 4 weeks. To date, Return to Learn consists of some schools understanding academic formal and informal supports following a concussion, while other schools do not. Some medical providers provide generalized academic recommendations while others do not.  Roles and responsibilities have become blurred. Educators need to feel empowered to use their acquired pedagogical skills to drive decision making. Educators are the experts in the field of education.
Students with concussion are a moving target. Some students need to miss a few days of school, while others never miss a day of school at all. Some students have trouble with reading while other students have trouble with math. Some students struggle with lights; other students struggle with noise. No two concussions are exactly alike,  yet there are some generalities that can be applied to all.
The majority of concussions (70%) should resolve within 28 days (Zemek et al., 2016). Therefore, GetSchooledOnConcussions.com believes the time and place to provide academic supports are within the first month post-injury, in the classroom setting. Get Schooled on Concussions has developed the Return to Learn Concussion Lesson Plan to supplement our three levels of training.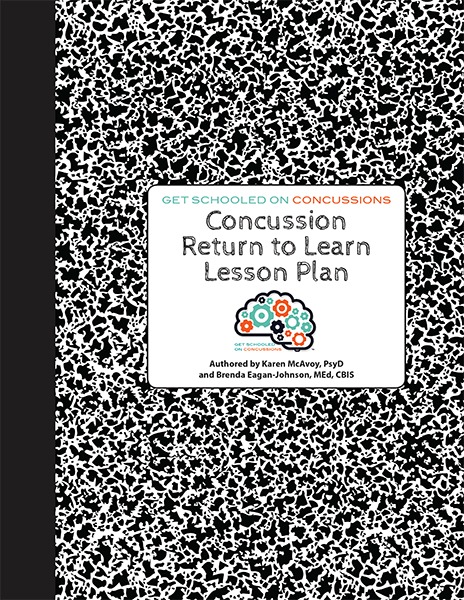 The Return to Learn Concussion Lesson Plan is a training tool used in all of the Get Schooled on Concussions trainings. A school or district may order additional Return to Learn Concussion Lesson Plans after participating in one of our three trainings.