Return to Learn is a popular term in Concussion Management. But, what exactly does Return to Learn mean? Return to learn is the magic that teachers possess to help students with concussion manage their symptoms during the school day (so they feel comfortable enough to be at school to hear instruction) and it is the  fluid,  flexible and generous academic adjustments teachers give students throughout the 1 to 4 weeks of recovery from a concussion. To date, a school's comfort level with Return to Learn has varied greatly. By default, some medical providers have tried to provide generalized academic recommendations to schools.  Roles and responsibilities have become blurred. Educators need to feel empowered to use their acquired pedagogical skills to drive decision making. Educators are the experts in ALL things in the field of education. For a Return to Learn protocol of be robust, it needs to be school-based and school-directed. In the end, a RTL protocol must be sustainable BY the school.
Setting up a systemic RTL protocol is difficult  because students with concussion are a moving target. Some students need to miss a few days of school, while others never miss a day of school at all. Some students have trouble with reading while other students have trouble with math. Some students struggle with lights; other students struggle with noise. No two concussions are exactly alike,  yet there are some generalities that can be applied to all.
The majority of concussions (70%) typically resolve within 28 days (Zemek et al., 2016). Therefore, GetSchooledOnConcussions.com believes the time and place to provide academic supports are within the first month post-injury, in the classroom setting. Get Schooled on Concussions has taken the science of concussion and has translated it into a common and comfortable language (and philosophy) for the educator,  already known in the field of education as the 3 tiered system of support: Multi-Tiered System of Support (MTSS) or the Response to Intervention (RTI) approach. The Get Schooled On Concussions Return to Learn Concussion Lesson Plan booklet supplements our three types of training.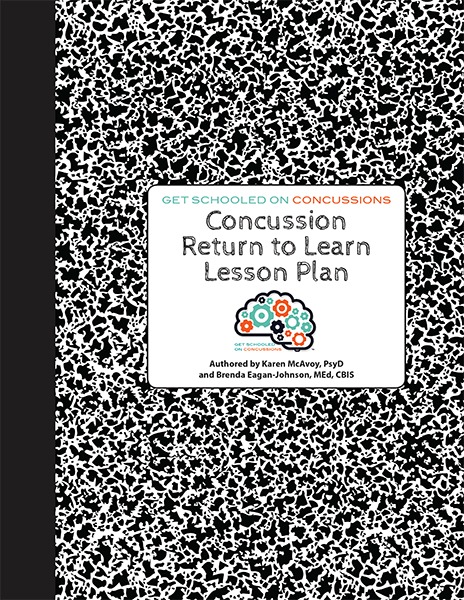 The Return to Learn Concussion Lesson Plan is a training tool used in all of the Get Schooled on Concussions trainings. A school or district may order additional Return to Learn Concussion Lesson Plans after participating in one of our three trainings.