When we started working with educators on various Tip Sheet topic ideas, teachers were clear that anything over one page long was too much for busy teachers to read. We made a commitment to our readers that each topic would be condensed to one page of critical information.
Over 30 Tip Sheets have been written on the topic of Return to School and Return to Learn and more are being written regularly. Tip Sheets are rotated on this website so that all Tip Sheets are highlighted during a years' time. This information is excellent for parents, healthcare providers and educators to enable teams to be on the same page with respect to concussion management. We encourage all groups to read the Tip Sheets and share them widely.
Tip sheet access is included with our Get Schooled on Concussions curriculum. For more information on pricing, click here.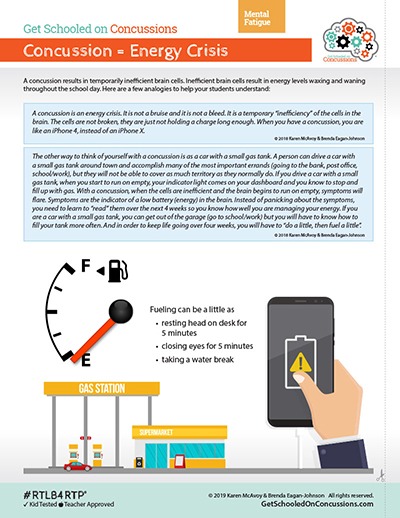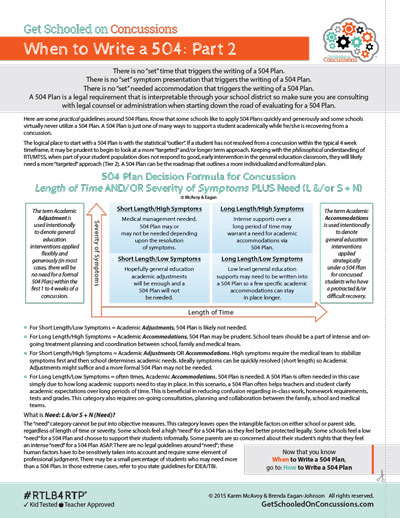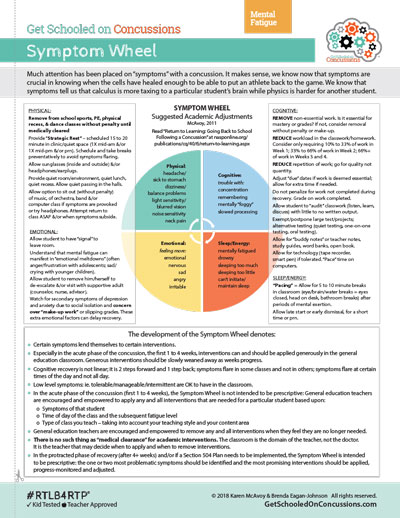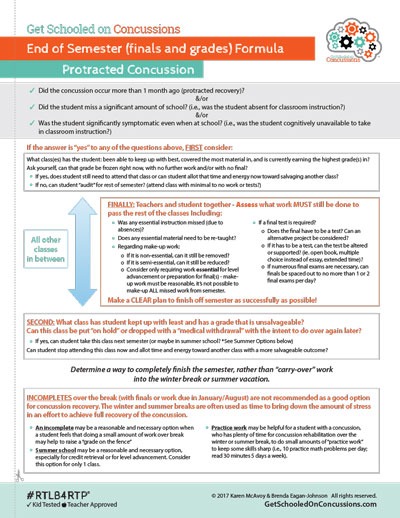 Tip Sheets Include:
Lesson 1.1 RTL for Tier 1/Classroom Teachers
Lesson 1.2 Elementary versus High School Language
Lesson 1.3 How a Concussion Feels
Lesson 1.4 Three Common Effects of Concussion
Lesson 1.5 Concussion = Energy Crisis
Lesson 1.6 What is Mental Fatigue?
Lesson 1.7 Mental Fatigue Strategies
Lesson 1.8 Symptom Wheel
Lesson 1.9 Slowed Processing Speed Strategies
Lesson 1.10 Biggest Mistake in RTL plans related to Slowed Processing Speed
Lesson 1.11 Avoid the Empty Grade Book
Lesson 1.12 Short-Term Memory Strategies
Lesson 1.13 Biggest Mistake in RTL plans related to STM
Lesson 1.14 Finals & Grades with Acute Concussion
Lesson 1.15 Fading Academic Adjustments
Lesson 1.16 What to Do About Missed Instruction
Lesson 1.17 What to Do About Work Output
Lesson 1.18 What to Do About Tests
Lesson 1.19 Teacher Feedback Form
Lesson 1.20 Symptom Progress Monitoring
Lesson 1.21 Extra-Curricular Activities
Lesson 1.22 Successful School at Home
Lesson 1.23 Elementary Remote Learning Routine
Lesson 1.24 Middle and High School Remote Learning Routine
Lesson 1.25 Hybrid Model
Lesson 2.1 RTL for Tier 2/Related Service Providers
Lesson 2.2 Return to School versus Return to Learn
Lesson 2.3 Failure to Return to School Complicates Return to Learn
Lesson 2.4 Ascending Levels of Support or MTSS/RTI Tiers
Lesson 2.5 Concussion Rehabilitation
Lesson 2.6 Phases of Recovery
Lesson 2.7 Underlying Reasons Behind Protracted Recovery
Lesson 2.8 When to Write a 504 Plan (Part 1)
Lesson 2.9 When to Write a 504 Plan (Part 2)
Lesson 2.10 How to Write a 504 Plan
Lesson 2.11 What a 504 Plan is NOT
Lesson 2.12 Finals & Grades with Protracted Recovery
Lesson 2.13 Return to PE & Recess
Lesson 2.14 Sample School Notification of Concussion
Lesson 2.15 Sample School Notification of Head Injury
Lesson 2.16 Training Pyramid MTSS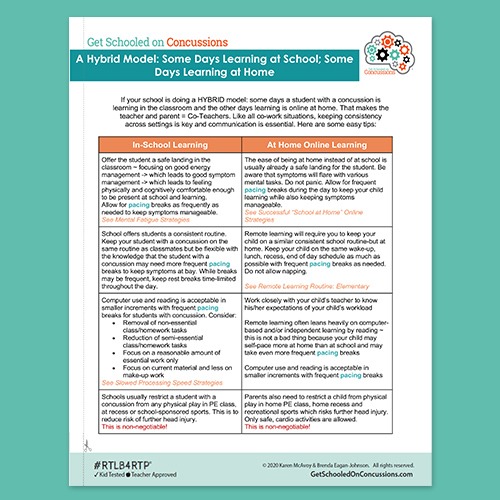 Free Download
Get Your Tip Sheet: A Hybrid Model: Some Days Learning at School; Some Days Learning at Home.